Lizardylizardylizardy!
This morning, while I was walking down to work from my parents' house, I found a dead lizard. Being me, I thought it was really interesting, and I decided to take it home so that I could look it up in one of my nature books and find out what sort of lizard it was. I needed something to carry it in, so I put it in an empty cigarette packet that was in my pocket.
I forgot about it after that, until I went to look for a cigarette and pulled out the empty packet by mistake. I remembered that I'd put it in there, and tipped it out to show Chris. At this point, it started crawling around my hand...
That's right, I'm a lizard-napper!
I felt so guilty, and kept apologising to the poor little thing. It seemed healthy enough, although
really
pissed off! (Well, you would be, wouldn't you?)
I did a bit of online research, and found some photos
here
. The fourth picture down is most similar to how mine looked, but since adult Common Lizards grow to between 10 and 16 centimetres long, and mine was only 7cm, I think it was a baby. Apparently, young ones are very dark in colour. It had an orangey-yellow underside with black spots, so it's a boy.
Here he is...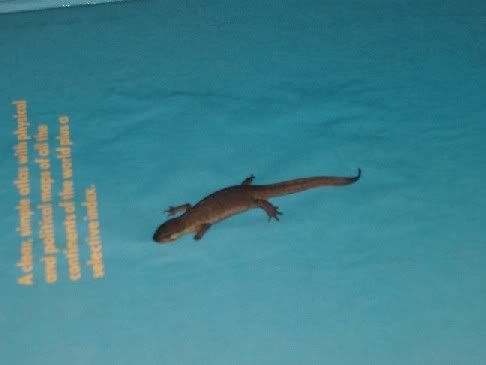 We decided that if we kept it, it would die, and I felt bad enough about taking it anyway, so we took it down to the stream near here, and tucked it safely down on the bank. I hope it'll be ok.