Finally, My Holiday Photos!
At long last, here for your viewing pleasure is a selection of photos from my holiday in Wales last month.
They're not in any particular order, mainly because I can't remember on what days we went where...
So, here we go -
This is Criccieth, the town where we stayed,
and here's my parents sitting outside the house we rented.
There's a fairly well-known shop there that sells kitchenware, and I was delighted to see their window display. Obviously, the thing that goes best with spatulas and colanders is a Dalek!
And, to keep it company, a Cyberman hosting a barbecue...
The weather was pretty horrible for most of the fortnight, as you can tell by this picture
but we still found plenty of places to visit.
We went to a lot of our favourite castles, etc. Here's some photos from Harlech Castle, just down the coast from where we were staying.
This is the castle itself.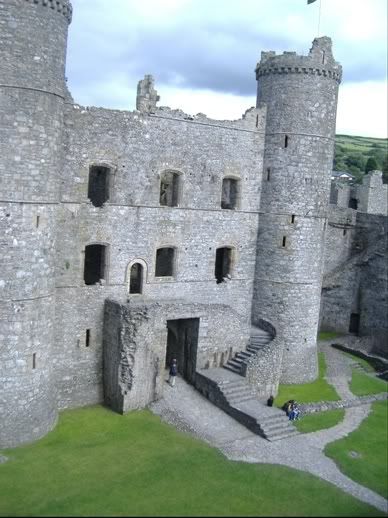 I found these in one of the rooms, which I've decided are a collection of dragon eggs. Unfortunately they didn't hatch when we were there; maybe they need Smerk to incubate them...
My youngest brother Huw looking surprised
and Chris looking cute!
Me being happy exploring the castle.
Oh, and
The Fringed Avenger
!
I love wandering on beaches, finding shells and other interesting things. There were a lot of jellyfish around this year, probably because of all the recent storms. I saw some types I recognised, and a couple I didn't, including this one.
(Chris stood next to it to give an idea of size.)
I really liked its iridescent shimmer.
I also found this on a beach. Well, I didn't really find him. He was there all the time.
This is my older younger brother, David.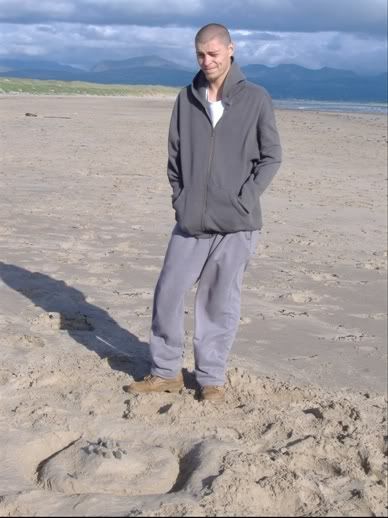 On one particularly rainy day we went to Llanberis, where there are old slate mines. This is a little lake in (I think) old mine workings. The water really is that colour.
This is a brief glimpse of Snowdon that we saw from the car when driving through the mountains
and this is a collection of stalactites growing inside Sygun Copper Mine. Chris, Huw and I went on a tour through the mine on one of the rainiest days we had. It was fun, especially with the water streaming into the mine...
The mine only became disused about 100 years ago, so the stalactites have grown since then.
The middle weekend of the holiday had better weather. We went to Shell Island, and found a samba band performing there. It's always good to meet other drummers and hear different styles being played. I went to talk to them afterwards, and hopefully if they come up here sometime our bands can play together.
We went to Beaumaris Castle for a 14th century re-enactment event.
This is the castle,
here's a shot of the battle performance,
and here's Huw, Boo and Matt watching.
On another nice day, I went for a walk up by a series of waterfalls in the woods. It was lovely up there, very peaceful.
This is part of the biggest waterfall.
We saw a lot of ants on the path at one point. My mum was saying 'I wonder where their nest is?' when I saw this right behind her...
The nest is about four feet high!
Ok, a few odds and ends to finish up with.
On Anglesey there are a lot of ancient ruins, burial mounds etc. We walked up to see one of the villages, which, as far as I can remember, dates back to pre-Roman times.
I like this photo of Chris and my dad.
Being a long-term 'Buffy' fan, I just had to get this picture!
I got a new tattoo while we were away, from the same shop where I got my last two (on our previous two holidays in Wales).
Obviously the seahorse is the new one.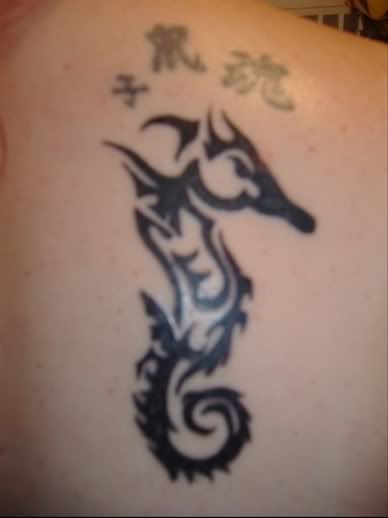 Finally, as you may have heard, we made another horror film while we were away. The shambles that was our previous attempt made us realise that one needs a storyboard when making a film, to avoid the horrendous continuity errors. We did that this time, but now we also know that we need 1) a script, since we've discovered that none of us can adlib lines, and 2) a shooting schedule. We spent the whole first week talking about making the film, and ended up filming it late at night for the last five days of the holiday, finally wrapping at about 4am on the last night.
We had to be up early the next day to get our stuff loaded and clean the house before leaving, so this is how we looked that morning...
The film should be ready for posting sometime soon. I asked David how the editing was going, and if there were any terrible continuity errors this time. He said, "No, the continuity's fine. There's only one huge problem - the quality of the acting..." What can I say - there's a reason that none of us are professional actors.
Oh, by the way, even with all the time we spent filming, the new film is still going to be only about 12 minutes long - at the present rate of progress, we might manage a full-length film in about 30 years...